All Stores open Mon.-Fri. 10am-7pm, Sat.-Sun. 10am-6pm.Visit us online at www.customframestore.com

Hello Guest,
In this month's newsletter we wanted to share our three top art experiences for you. Enjoy those hot August nights around Los Angeles and make sure to stay cool in an art gallery or museum.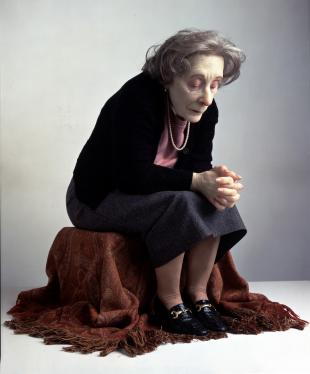 A Journey That Wasn'tThe Broad221 S. Grand Ave.Los Angeles, CA 90012Through Febuary 2019
The exhibition presents more than 20 artists including Bernd and Hilla Becher, Gregory Crewdson, Andreas Gursky, Elliott Hundley, Pierre Huyghe, Anselm Kiefer, Sherrie Levine, Glenn Ligon, Sharon Lockhart, Paul Pfeiffer and Ed Ruscha. 40 of the 55 works in the exhibition are on view for the first time at The Broad.
Painting, sculpture, photography, film and installation will be brought together to examine the passage of time by alluding to nostalgia or sentiments about aging, often depicting specific places in states of decay. Others imply movement or narrative within single still images; in these works, historical styles and events are ruptured, collaged and recontextualized, like portals into seemingly other worlds.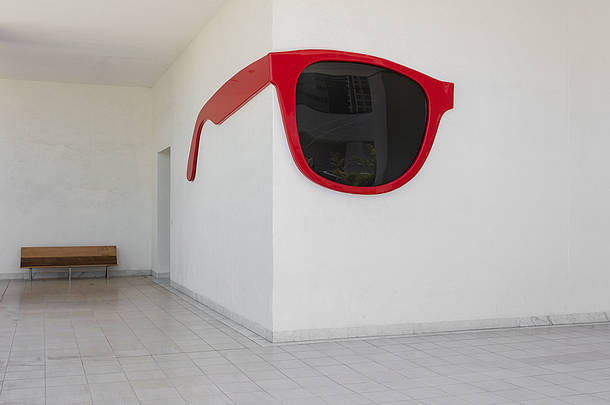 Made in L.A. 2018Hammer Museum10899 Wilshire Blvd. Los Angeles, CA 90024Through September 2, 2018
Made in L.A. 2018 is the latest iteration of the Hammer's acclaimed biennial exhibition, showcasing artists from the greater Los Angeles area.
The exhibition's 32 artists range in age from 29 to 97 and have contributed works that are deeply engaged with vital aspects of our contemporary culture. While there is no overarching theme, many of the artists share common interests. Several grapple with issues of representation, marginalization, and pressures placed on the body. Some artists offer interpretations of cultural practices, proposing how ancient forms of knowledge may be reimagined in the present, or reflect on the current political climate. Others consider the landscape, climate change and its repercussions, and the relationship between the land, capitalist expansion, and violence.
Through drawings, paintings, sculpture, textiles, performance, video, photography, and installations—many newly commissioned expressly for Made in L.A. 2018—these artists exemplify the diverse and creative landscape of Los Angeles today.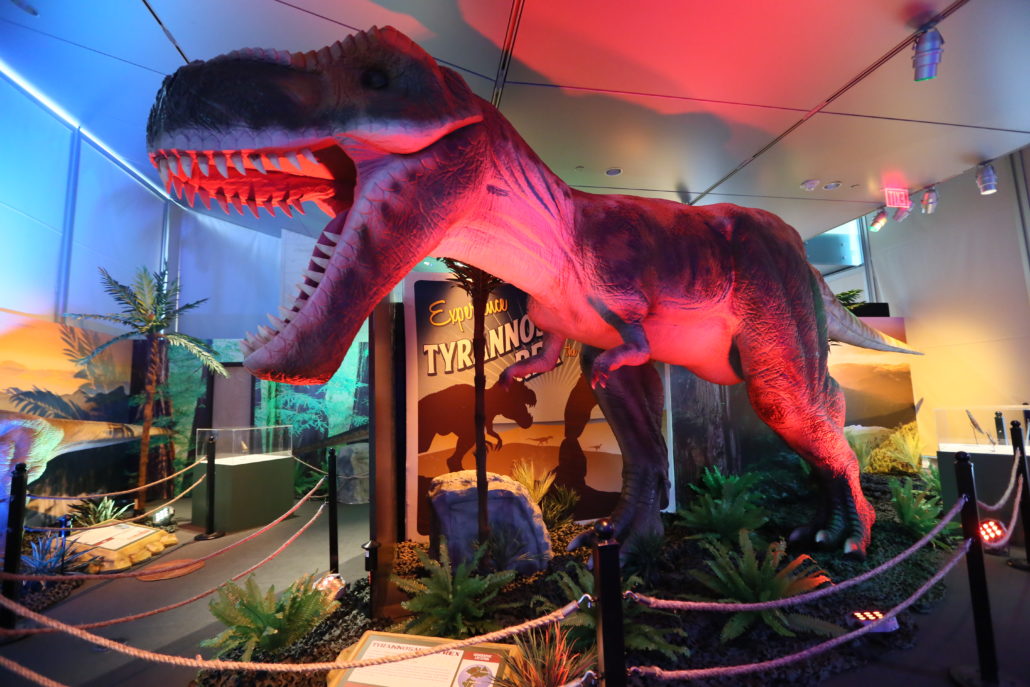 Dinosaurus Around the World ExhibitDiscovery Cube LA
11800 Foothill Blvd.Los Angeles, CA 91342Through Sept 3, 2018
Grab your prehistoric pass and step into Dinosaurs Around the World.
In this immersive exhibit, Dino-lovers of all ages will experience a time before the continents existed, bringing to life the 172-million-year reign of the dinosaurs.
The exhibit features a variety of dinosaurs from various regions, such as the mighty Tyrannosaurus Rex of North America or the swift Velociraptor of the Gobi Desert. Visitors will experience the Age of Reptiles through:• Advanced Animatronics• Fossils• Authentic Casts• Cutting edge research• Immersive design elements
Young learners will also discover more about the geologic time scale, geology, geography, and climatology. This exhibit provides visitors the chance to experience the pre-historic era while also learning and enjoying the amazing story of the dinosaurs.
FrameStore Stories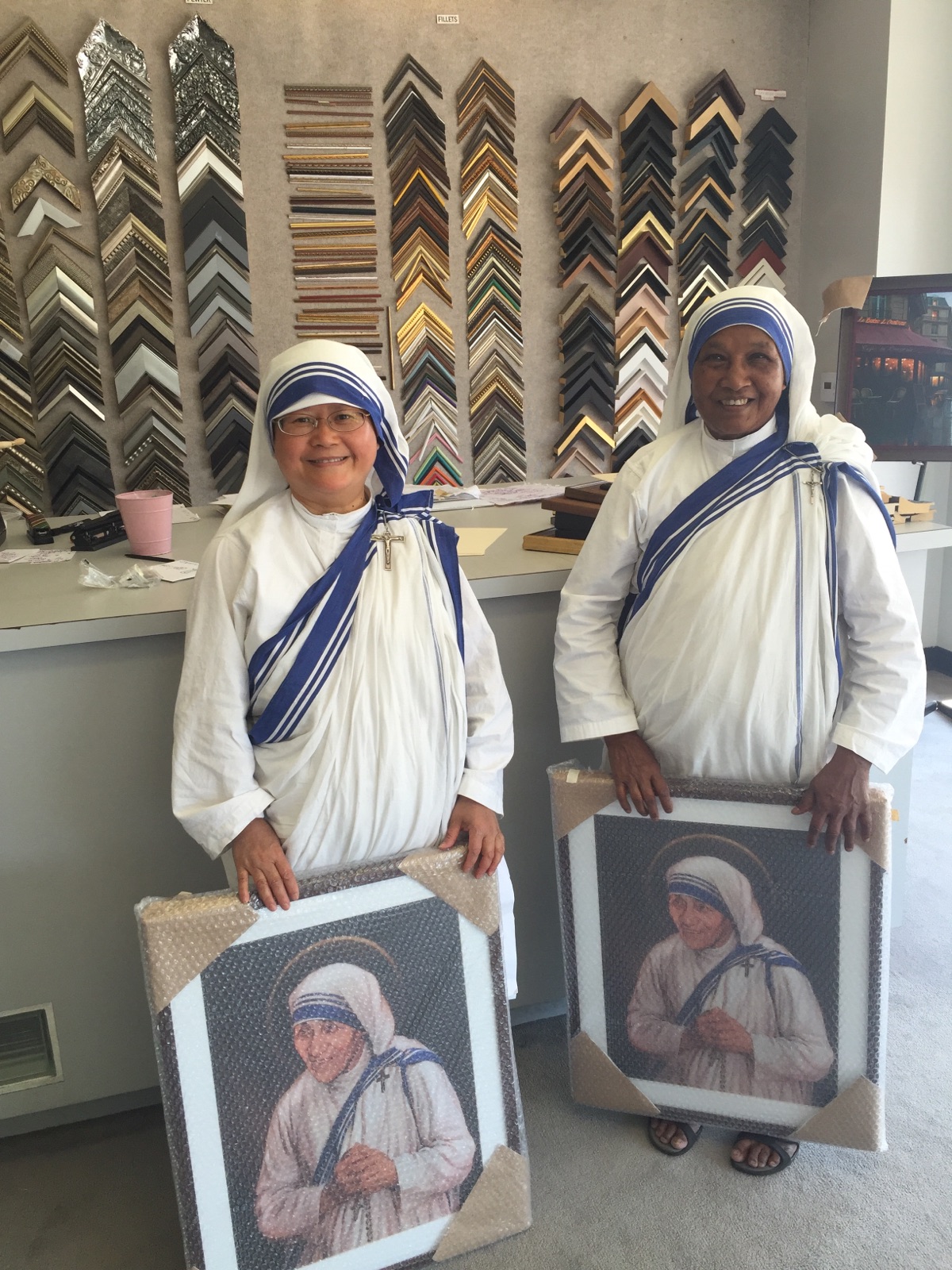 Monica, our consultant in Brentwood, shares one of her favorite FrameStore stories.
The sisters from Mother Teresa's Mission of Charity were, well, on a mission. It was September 2016 and mother Teresa was about to be canonized. The sisters called into the store to see about having their Mother Teresa portraits framed. Monica was happy to help.
En route to the store the sisters got lost and Monica did her best to remotely steer the ship with directions from over the phone. Hours later they arrived. Monica was instantly smitten. The sisters were half her size. Monica being 6ft tall, towered over the diminutive ladies. After getting to know them, Monica realized they were very poor. For example, years ago, when the movie Sister Act with Whoopi Goldberg was filmed at their convent, they kept the left over food donated by craft services for future meals.
Monica wrote up the quote and it was way more than they could afford. They blessed Monica and turned to leave. Monica thought to herself, " I can't let them leave. They had journeyed so far and they rely on the generosity of others for things like this!" Monica found a way to discount the order that worked within their tight, tight budget. Besides it's not every day that their pious leader gets canonized.
The sisters were ecstatic at pick up. They expressed it in their own way of course. Not only does Monica have a happy memory of the experience, but felt blessed to be a part of such a monumental occasion.
In the Studio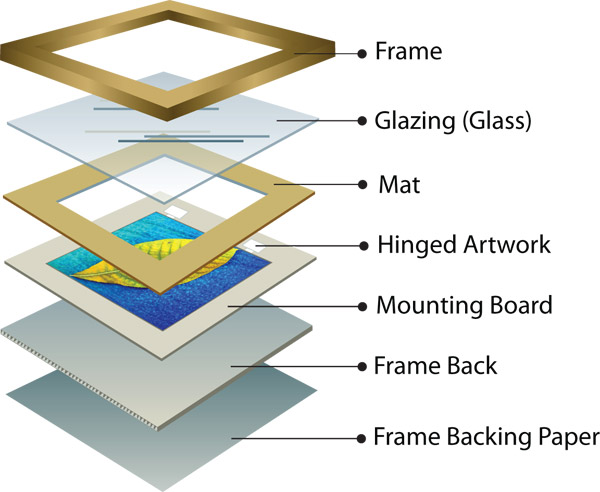 When mounting your artwork, there are many choices you can make. What we recommend for a majority of artwork is our museum mount.
Here at FrameStore, we are always thinking about conservation. It's important to us that you'll be enjoying your precious piece for decades to come. So, along with UV filter glass and acid-free mats, your mounting should play an important role in it's longevity.
What makes museum mount the preferred mount? Well, there are several reasons.First, it allows the paper to expand and contract naturally. Paper needs to have enough give, so it's not constricted, allowing it to remain in it's original true state.
Another important element to museum mount is that it's 100% reversible. FrameStore uses acid-free museum tape. Museum tape when heated slightly, releases the artwork and leaves no residue. So, if for any reason the art needs to be removed, you'll be at ease knowing it won't be damaged.
Lastly, with museum mount, the art is mounted on acid-free board. Most paper naturally has acidity levels that over time can stain and discolor whatever it comes into contact with. With acid-free boards, this is not an issue.
So, the next time you are looking to frame your artwork, and you need to mount it, ask us about museum mount.
FREE MIRRORS• Free when framed with FrameStore• Up to 40″ x 60″ with 1″ bevel or flat mirror• 1/4″ thick with earthquake safety backing• Completely unique to various style needs• Simple to measure – Just need to know outside dimension!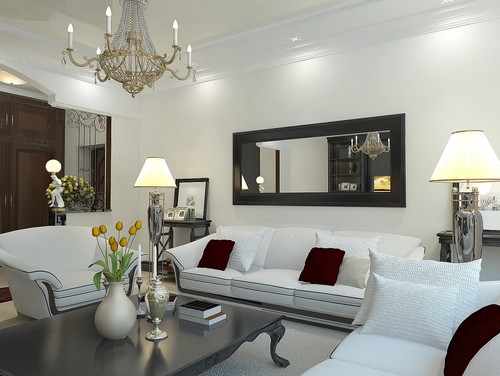 Brentwood (310) 361-6477
Culver City (310) 361-6474
Hermosa Beach (310) 362-7872
Pasadena (626) 231-0654Santa Monica (310) 361-6470
Thousand Oaks (805) 994-0792
W. Hollywood (323) 805-4966