All Stores open Mon.-Fri. 10am-7pm, Sat.-Sun. 10am-6pm.Visit us online at www.customframestore.com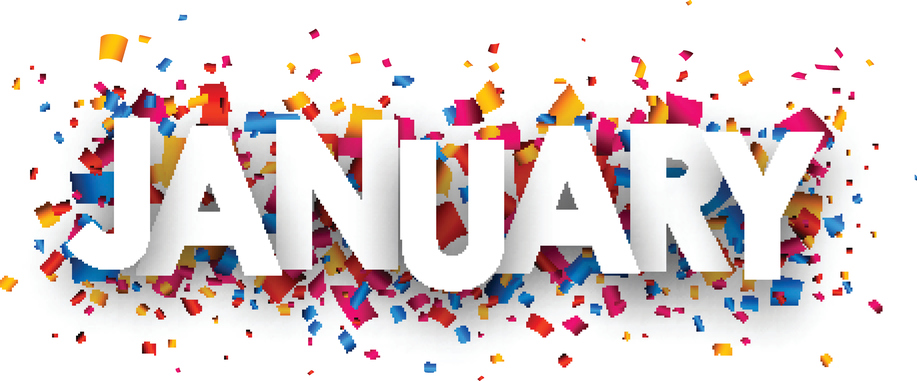 Hello Guest,
Happy New Years! In this month's newsletter we wanted to share three top art experiences for you to enjoy with your loved ones and friends in the new year. Make it your new years resolution to go support the local arts.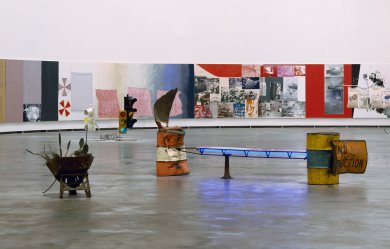 Rauschenberg: The 1/4 MileAt The LACMA5905 Wilshire Boulevard, Los Angeles, CA 90036Through June 9, 2019
One of the most pioneering artists of the last century, Robert Rauschenberg (1925–2008) produced a diverse body of work characterized by experimentation, the use of varied mediums and methods, and cross-cultural exchange. Rauschenberg's monumental The 1/4 Mile or 2 Furlong Piece (1981–98) exemplifies these tenets of his artistic practice. Created over 17 years, the work is composed of 190 panels that, combined, measure approximately a quarter mile in length. An eclectic array of materials comprise the piece: textiles, mass media images, and photographs by the artist intermingle with bold passages of paint, while everyday objects such as chairs, cardboard boxes, and traffic lights add sculptural depth. Rauschenberg incorporated materials and photographs from the U.S., Asia, Europe, Latin America, and Northern Africa, including audio of ambient street sounds recorded during his travels.The 1/4 Mile reveals the broad scope of Rauschenberg's practice through the multitude of mediums and techniques employed, and serves as a self-contained retrospective of his oeuvre. This presentation is the first time The 1/4 Mile or 2 Furlong Piece will be exhibited in its entirety.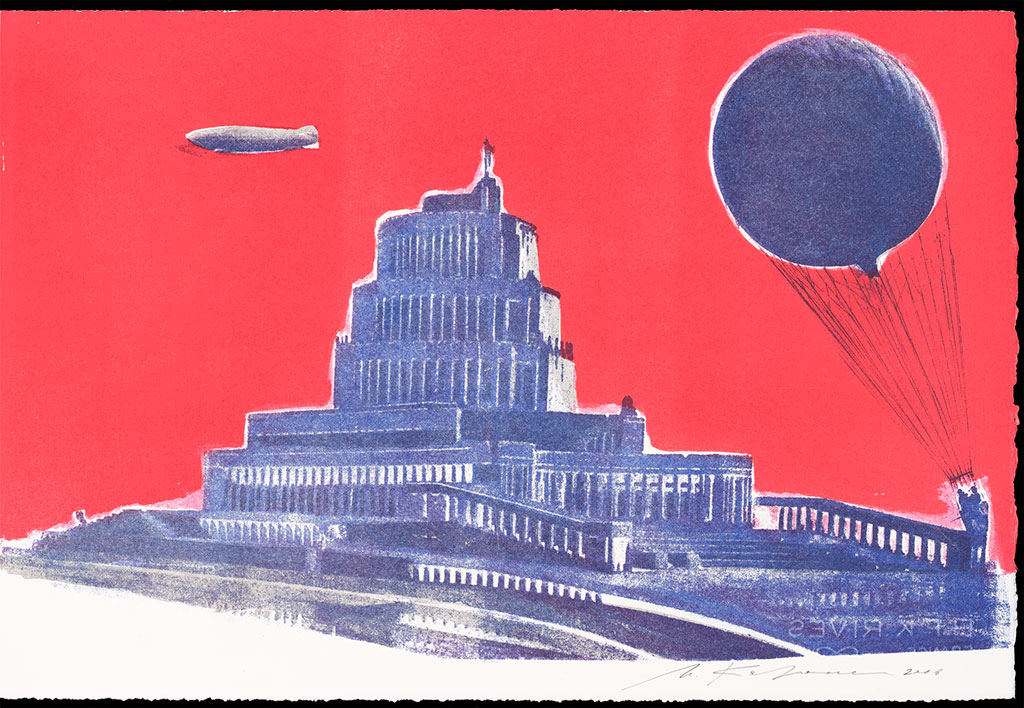 MONUMENTalityAt The Getty
1200 Getty Center Drive Los Angeles, CA 90049
Through April 21, 2109
Monumentality evokes an aura of greatness, a sense of power and gravity that demands public recognition. As markers of history and repositories of collective memory, monuments can project multiple and sometimes contradictory meanings.Scale and size have figured prominently in human efforts to mark cosmic and geological time, from patterns etched on land in ancient rituals to earthworks created in the 1970s. Across centuries and cultures, power is envisioned through the planning of cities and their monuments, both real and imagined. While monuments are often meant to legitimate ideological regimes or promote the myth of cultural superiority, the documentation and mediation of such structures provides fertile ground for contemporary artists to challenge the status quo.This exhibition investigates various paradigms of monumentality, how they are generated through systems of belief and structures of power, and why certain monuments endure and others fall.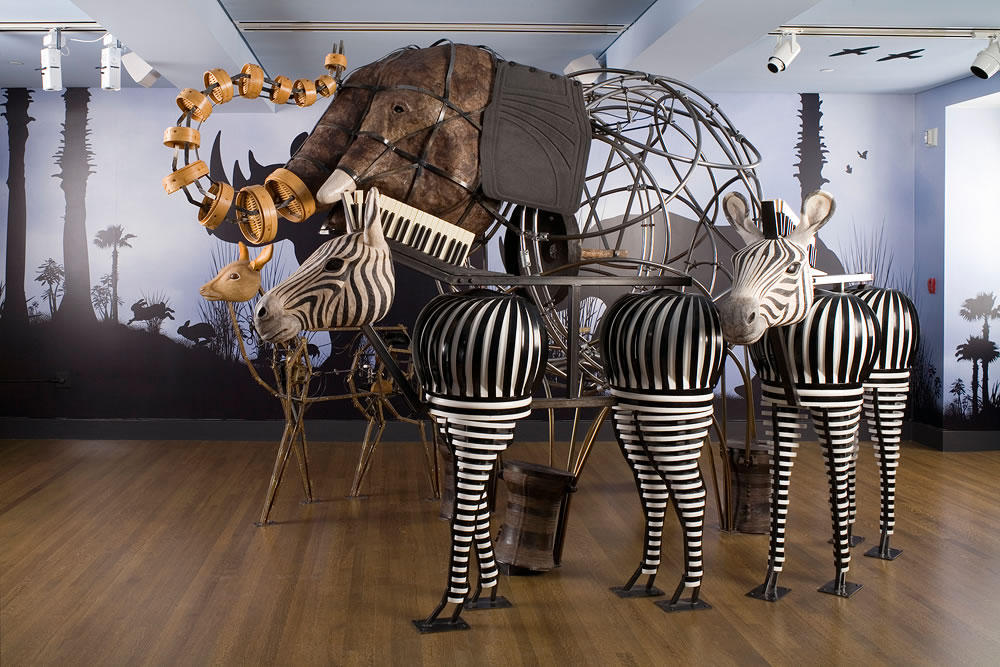 The Lion Guard:The ExhibitAt Discovery Cube2500 N. Main StreetSanta Ana, CA 92705Through January 19, 2019
Explore the Pride Lands with Kion and his friends! Train with each member of the Lion Guard to protect the balance of the Circle of Life. Enjoy hands-on activities and imaginative play and discover the importance of teamwork as well as the unique traits of the Lion Guard.This one-of-a-kind exhibit will bring "The Lion Guard" story to life for young children and their families, spotlighting important learning areas such as social and self-development, problem solving, creative thinking and arts & culture.
FrameStore Stories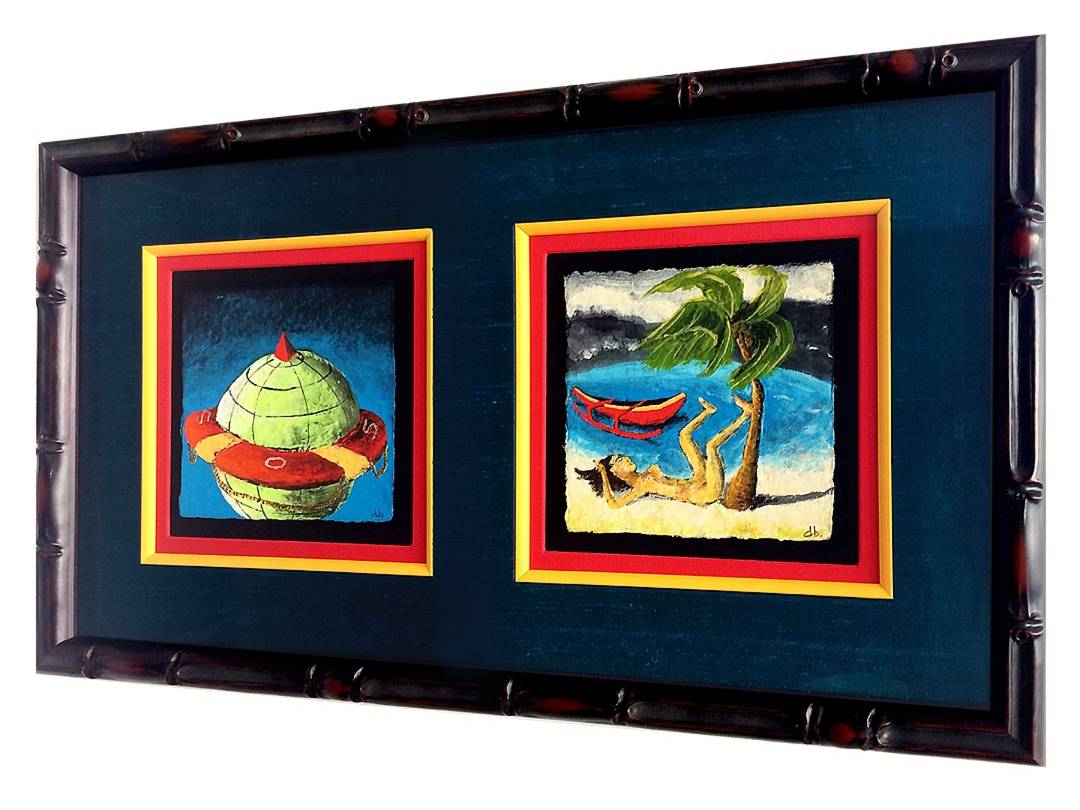 Bryan, our consultant in the Pasadena store, has been up to someoutside-box-designing! This month's FrameStore story is no exception. A client had a pair of small tropical themed paintings. Painted by the same artist, and on rice paper, Bryan decided they needed to be contained within one bamboo style frame. He had each of them floating in their respective windows. Bryan felt a black canvas base was ideal because of the deckled edges of the paintings. He also chose bright colors: a fire engine red mat opening and a yellow fillet to tie the framing in with the colors found in the expressive paintings. Museum glass was the only optionhere. No reason to hinder this stellar design with glare and reflections. As expected, Bryan'sclient was very pleased with the finished result.
In the Studio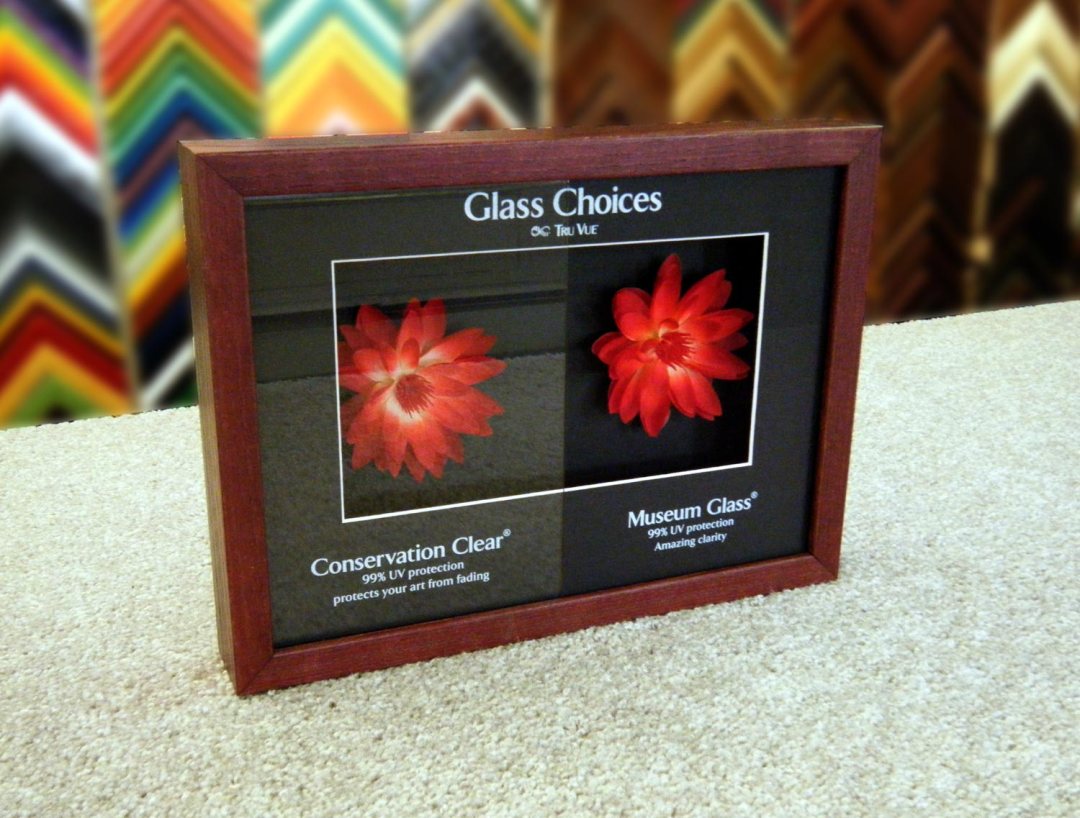 As art lovers, and collectors our clients have many decisions to make, and our skilled design consultants are here to help make the decision process a little easier. We here at FrameStore, all have our own aesthetic, but the one thing you'll find all of us designers agreeing on is the overwhelming benefits to using museum glass. Along with conservation grade, 99% UV protection, museum glass boasts amazing clarity! In other words, museum glass has the least amount of light reflection.
Consultant Ron Brown in our Santa Monica store is a huge proponent of museum glass. When discussing museum glass with his clients, he proposes, "When most artists create a work of art, they mean for the viewer to see themselves in the piece metaphorically, not literally!" Another benefit to using museum glass is its highest amount of light transmission. What this means to our clients is that, with artwork behind museum glass, the viewer will see its highest brightness and contrast levels. So, when it comes to decision making in custom framing, thisis one that's easy. Choose museum glass for conservation, clarity, and remarkable beauty.
January Deals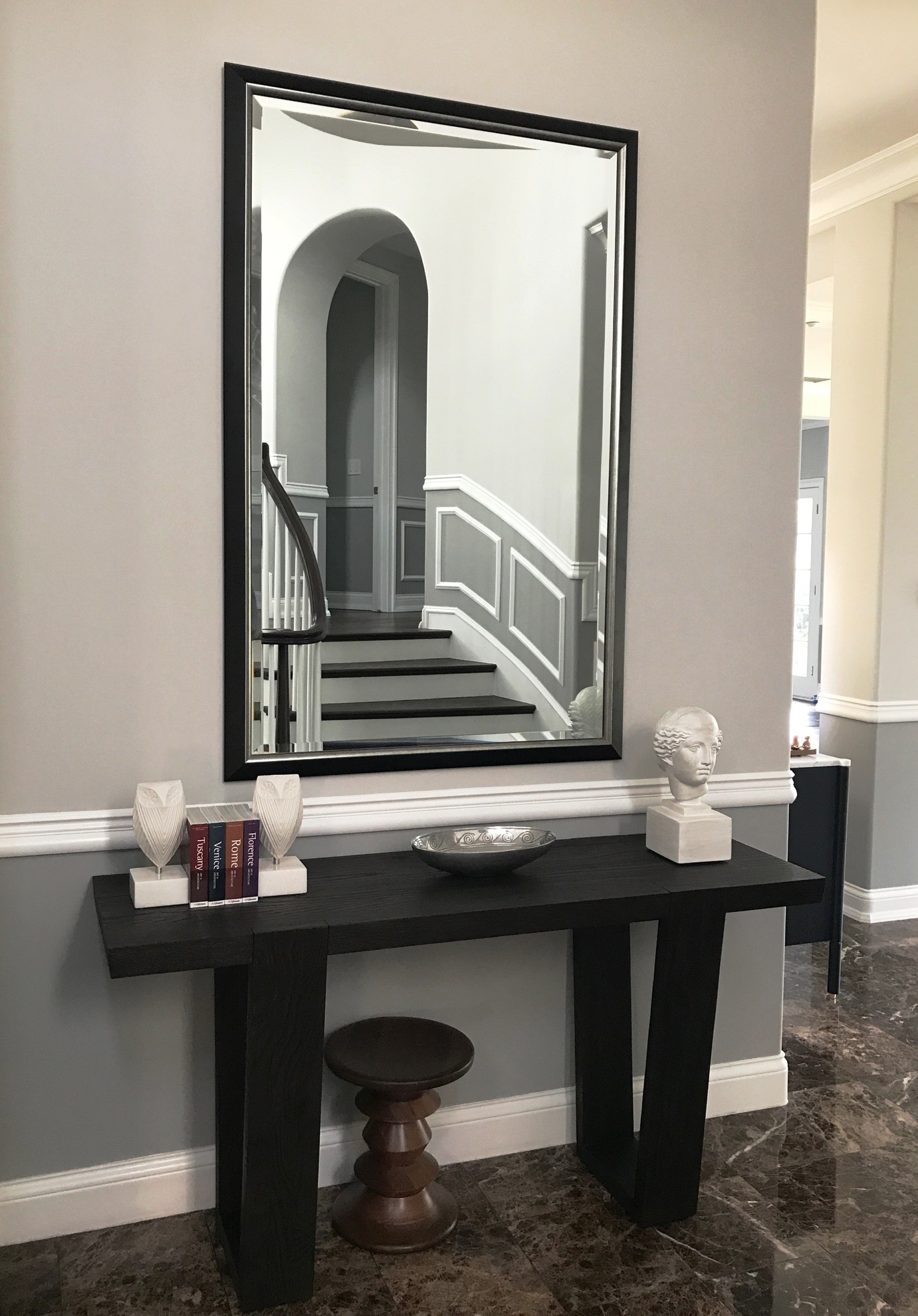 FREE MIRRORS
Free when framed with FrameStore
Up to 40″ x 60″ with 1″ bevel or flat mirror
1/4″ thick with earthquake safety backing
Completely unique to various style needSimple to measure – Just need to know outside dimension!
Brentwood (310) 361-6477
Culver City (310) 361-6474
Hermosa Beach (310) 362-7872
Pasadena (626) 231-0654Santa Monica (310) 361-6470
Thousand Oaks (805) 994-0792
W. Hollywood (323) 805-4966